Next up on my list of options is a cruise to Alaka.
The Facts:
Flight Cost: Same as below
Cruise itenerary: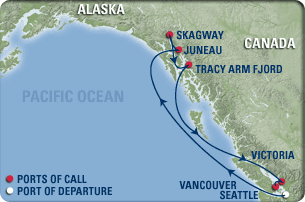 Cruise Cost:
Interior: $549
Outside: $749
Stuff to do: Well there is all of the below stuff if we can spend more time than just on the boat, dog sleds, glaciers, kayaking, a ton of trails, pretty much all outdoorsy stuff, oh and whale watching. I get really excited about whale watching!
I'm not sure if this surprises you, but I'm 100% okay with that.
So I've gotten a few nods for Seattle. What do you think about Alaska and everything cold? I think I'll review some warm places tomorrow.
Oh and happy Christmas Eve Eve.