***EDIT AGAIN***
So who knows. Apparently they are getting back together, but now one knows to what extent. Crazy kids. I guess we will have to wait until we get the official announcement. I also read a rumor about a reality tv show.
***EDIT***
Apparently NKOTB are not coming back. I guess you can't believe everything you read. Actually I'm kind of glad. I like to keep them preserved in my mind pictured below... rather than their current real estate developer selves.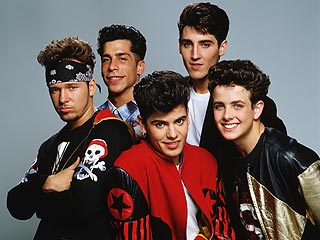 According to People magazine, it's official, they are coming back. Oh but wait, don't get too excited. Jonathan is now 40 and is a real estate developer, um somehow that's just not too NKOTB to me. More information
here
.
In other news, I'm off until Friday gearing up for my new job. I'm excited, but I'm not sure what
I'm going to do all week. Here's my latest layout:
Everything is from Chere Kaye's
Crazy 4 You
. My husband never reads this, so I'm safe to say, isn't he so cute in this picture. I just love it.
I'm off to workout and get some Valentine's Day crafts done. Happy Monday.